The popularity of cane rods has steadily increased over the last few years to such an extent that anglers are now realising that many of the good quality rods from yesteryear are worthy of a new lease of life.
There are literally thousands of rods out there and some of the more popular types from the more famous stables, such as B. James, Allcocks, Milwards and Hardys are still in remarkable condition.  However, many are not and there are a number of reasons for them to be in poor condition. Most of the fault tends to be with the breakdown of the original varnish where this has either lifted off the surface and become dry and brittle, or shrunk and crazed on the surface. When this has occurred the silk whippings have also been affected and their original colour has diminished. Most early rods were whipped in silk which would have required an application of colour preserver to maintain the original colour. Without this application, varnish applied would turn the silk black. (The majority of the famous London Roach Poles were all whipped in black and the pole maker would use a variety of coloured silks, such as blue, green and garnet confident that once varnished they would go black.)
Other common faults with a rod requiring restoration would be a bad set to the cane, mainly the top section would be at fault. Sets can be remedied depending on how bad they are, but generally re-heating carefully over a gentle flame and re-straightening by eye on the area at fault will usually put the cane right but this is not always guaranteed. Sets have a nasty habit of coming back when the rod is re-used so the only other alternative is to have a replacement top built to match the original. 
I will always offer these alternatives to the customer and would suggest re-straightening the cane first and testing it to see if the set returns, before going down the more expensive route of a newly built top section. Another common fault are the ferrules. A rod that is 50 years plus and has been in regular use will show obvious signs of wear on the ferrules. Constant use will make the ferrules slack and usually tend to be loose. This can also be remedied and most of the time all that needs doing is a gentle tightening up on the female ferrule to put things right. However, once again, this isn't always a guarantee and if the ferrules are too far worn then I would recommend that they be replaced with new ferrules.
The utmost important part of the rod that requires restoration has to be the makers name or transfer. This will usually be either written in Indian ink or have the maker's logo or both. This provenance, once removed, renders the rod valueless. This area of the rod must never be removed and other than a very light and gentle rub down over the existing varnish, it has to remain. This has one drawback though but is unavoidable. The old varnish always tends to darken with age and when the rest of the rod has been fully stripped down to bare cane it is surprising to find that underneath that old dark varnish the original cane is very light indeed and shows a very stark contrast to the area that has the provenance. This tends to be an unavoidable problem when the cane is the light wheat coloured variety but sometimes it can be stained down to a darker colour.
It is never easy to match exactly the correct colour silks to an older rod. One reason for this is due to the unavailable stocks of original silks and also the discolouration that has occurred over many years which can also darken the original silk or even lighten them if the colour preserver has broken down. Thankfully there are a great deal of modern silks and nylons available today and all carry a variety of colours. Most of them one way or another will be either an exact match or a very close copy. The most common colours used were green, red, garnet and, of course, black. It is only through experimenting with the silks available today that a satisfactory colour match is achievable.
Rod rings
Most early rods had a lined butt and tip ring and because of the hardwearing nature of these rings the majority survived and can be re-used. Early agate type rings are very hard to find and if found can be very expensive to buy. I do carry a healthy stock of original agate type rings purely for restoration projects only and if required, a close match or original match can be offered if original rings need replacing. Intermediate rings on older rods were not good quality and a much-used rod will show signs of wear and rusting.  These are best discarded and replaced with modern same pattern rings that are still available today.
Costings for Rod Restoration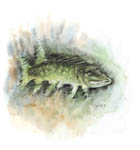 Rod builders and renovators will agree that material costs are unfortunately high and great consideration must be taken as to whether a rod is worth restoring. Apart from the material cost, the labour cost is also not cheap. Rod restoration is time-consuming so with these considerations the costings must be matched against the value of the rod to see if it is worth the expense. At times the expense is not an issue due to the rod being of a more sentimental value, so I am more than happy to price up a rod regardless of it's value or rarity. I will point out though that if a rod is cheap to buy on the second-hand market and the restoration far outweighs it's value then it's not worth the expense. It would be far better to put the cost of the rod and the restoration cost together and invest the overall value into a better quality rod.
Pricing up the cost of renovation is difficult without seeing the rod, although I can give a rough estimate upon the description from the customer. However, it is far better for myself and the customer concerned if a true price is given. It is usually best to either arrange a visit where I can then see what type of work is required or the rod can be sent in a secure tube for me to provide an accurate price. All estimates are free with no obligation. All I ask is if the rod is sent to me that my return postage is covered. The London Roach Pole, Fully restored - Please click here.